Logotypes, Signatures, and Visual Identity
Get the Rutgers logotype and signatures, access the signature generator, understand the visual identity system.    
Using the Rutgers Signature Generator
The signature generator is an online tool developed to allow Rutgers faculty and staff to request or download a new signature for a school or unit​.
A Rutgers NetID is required to access the system in order to download or request new signatures for all universitywide locations.
Download Identity Packages

Use the signature generator to access or create school and unit signatures.
Search for your school, center, or unit signature and download packages immediately.
Each signature package includes:
Signature files in EPS and PNG formats 
PowerPoint templates
Letterhead templates
Department email signatures
Can't find your unit's signature? Use the signature generator to create new signatures that are not already in the library. New signatures require approval and will be routed within the system. You will receive a separate email when your signature is ready for download. If you have not received your signature within five business days, please contact identity@ucm.rutgers.edu.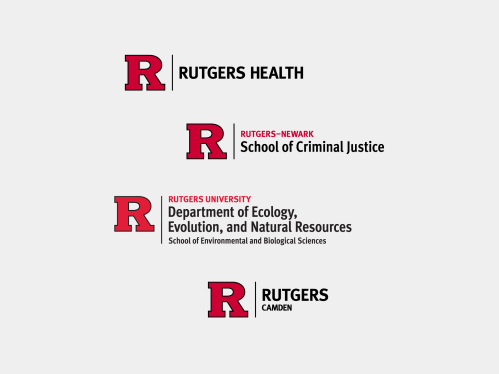 Visual Identity Resources
Using the university's name and identifying logos, marks, and symbols in the Rutgers Visual Identity System consistently and appropriately maintains a strong image for Rutgers.