Rutgers Core Component Library
Save time and money with your next website project using the Rutgers Core Component Library (RCCL). 
Making Website Management Easier
The Rutgers Core Component Library (RCCL) provides a set of visually attractive website design elements that adhere to Rutgers brand standards and university accessibility policies. With the assistance of a Drupal developer, have the RCCL installed and configured, and you add the content. Use the alternative homepage template included or create your own homepage working with a website front-end developer. Units are responsible for securing website developer assistance. Best of all, your Drupal website developer can build on the system to meet your specific needs. Not using Drupal? You can still use the component library by having a web developer integrate the library designs with your own website system. See the getting started section below to learn more.
A Ready-to-Install Drupal Design System
Drupal Version
Intuitive Open-Source Content Management
Build With
Components and Modules to Create Attractive Content
Similar to Wordpress or Joomla, but more powerful, Drupal allows editors to edit, save, publish, and unpublish text, images, and documents through an intuitive interface. Editors no longer need to know HTML or other complex website coding to create engaging webpages. The Drupal content management system provides for Twig based-theming, with a PHP foundation that is flexible, fast, and secure. The latest version of Drupal puts the mobile experience first. In addition, configuration management is built in and stored in separate files from the site database.

Content Moderation/Workflow: Go beyond publishing and unpublishing your content. The RCCL offers an enhanced workflow where you can publish a page and work on an unpublished draft of a page at the same time. Share links to your unpublished draft with authenticated users, i.e., those who have login permissions. This powerful feature lets you prepare a webpage in place prior to publishing it.

Permissions: The RCCL provides basic roles and permissions including anonymous user, authenticated user, administrator, editor, contributor, and syndication API. Administrators have full rights. While editors can publish, contributors can create content but cannot publish content. Individual site owners can create new roles and permissions working with their website developer. The syndication API role gives users the ability to access the library's content syndication feature.

 

Share your content and curate content from other sites within the RCCL ecosystem. 

Available for specific content types only: articles, feature articles, and events.
Share and reuse content with other ecosystem websites via digital subscription.
Publisher chooses the content they want to syndicate, i.e., make available to others, by checking the "Share for Syndication" button at the bottom of their editing page. (See screenshot below.)
The subscriber's local copy gets automatic updates to the originally published article.

 

 

 

Conveniently, create a staff directory and add as much information or just the basics for each person by creating a "Person" content type  for each staff member.

The staff directory view includes several fields with a title label that you can customize as needed.

Tag the person to a unit or departments to create filtered views.

 

Categorize events and display them within the site based on category
Include images, information, registration button, or links
Share and subscribe to events among ecosystem websites
Use the events display on various pages

Using the Event content type, add your events details and publish on the site. No need to worry about removing events, they will automatically no longer be displayed on the site after the time and date have passed.

Events Listing View Page

The Events Listing page displays tabs with all events, featured events, and other information. The page also allows events to be filtered by keyword, date, division, and category.

 

Events News Display Component

Use this component to add events to various content templates, where available.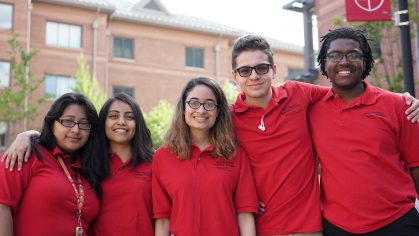 The website provides insight into the strategic planning and processes to increase diversity, equity, and inclusion.
Created by R-Comm, the communications office for Rutgers University-New Brunswick and RBHS, the COVID-19 Research website serves a new leading research facility.
Created for the Office of the University Secretary, the Commencement website serves as the main portal for the various graduation ceremonies at locations in New Brunswick, Newark, and Camden.
Interested in Using the RCCL?
Learn more about the component library, tell us about your project, and schedule a demo with University Communications and Marketing.
A Collaborative Initiative
The Rutgers Core Component Library initiative is managed by the department of University Communications and Marketing in partnership with Rutgers Office of Information Technology, Rutgers Communications (R-Comm) and the Office for Research. The component library is governed and maintained by members of the Component Library Working Group.