Media Relations
Resources for when media reaches out, or when you need to pitch to the media.
Communicating to the Media
University News and Media Relations is the official source of information on behalf of Rutgers, The State University of New Jersey.  
University News and Media Relations coordinates the dissemination of universitywide news and information and collaborates with chancellor-level university communications teams, which serve as the primary campus media spokespersons and are primarily responsible for producing external campus communications for the news media. 
Pitching and Promoting Your News 
University News and Media Relations can provide guidance on pitching and promoting news to the media and connect you with chancellor-level communications specialists.  
Media Inquiries
Faculty and staff should not respond directly to media inquiries on university-related issues until consulting with the appropriate media relations unit.
Significant Universitywide Issues: Contact University News and Media Relations for consultation.
Campus-Specific Issues: Contact chancellor-level communications offices for consultation.  
News Releases
To promote news, schools and units are advised to provide news releases in advance to the appropriate chancellor's office of communications to ensure that they are aware of the item being promoted and to provide an opportunity for input.  
Rutgers Today
Produced by University News and Media Relations, Rutgers Today is the official source for university news. Rutgers Today highlights a stream of stories and videos from across the university daily that showcase our outstanding students and faculty, research and health breakthroughs, and community programs that are improving lives in New Jersey, the nation, and beyond. The department also highlights external media coverage about Rutgers and shares conversations about #Rutgers on @RutgersU social media.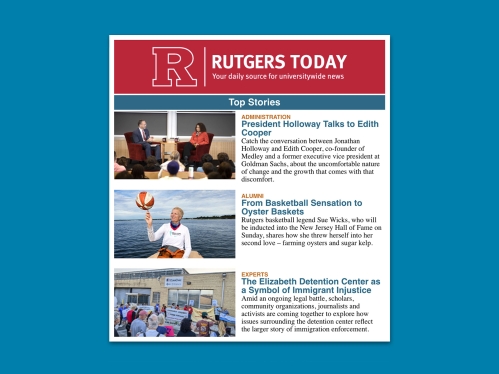 Media Contact Information
University News and Media Relations is a primary point of contact for members of the news media requesting interviews with university personnel or seeking information about central administrative, academic, or student matters.